Calendar
Every workspace contains a public calendar that can be edited and seen into by all project space users. The following figure shows an example of a project calendar.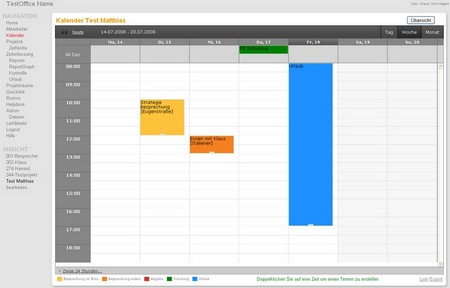 Create a new entry by double clicking into the field of the selected day or the selected time. Now enter your appointment under "Subject:" in the window that opens subsequently. This view also gives you the possibility to change the duration of the appointment by adjusting the time and date of the beginning and ending of the respective appointment.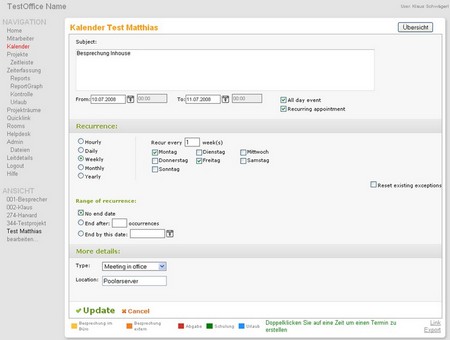 Define all day events by activating the "All day event" button. For recurring events such as weekly meetings or Birthdays, please activate "Recurring appointment". In addition you have the possibility to declare whether the repetition should take place on an hourly, daily, weekly, monthly or yearly basis. Furthermore you are able to choose if the repetition should be endless (No end date), or if the appointment recurrence should end after a specific number of repetitions (End after: xxx occurrences) or on a specific date (End by this date: xx.yy.zzzz).
You now have the option to change the appointments' type by clicking on "Type" under "More Details". The entries in this selection field can be defined freely by your administrator. The selection field can be expanded, using the same pattern, by entries such as "vacation", "sickness" and so on. Under "Location" you can edit where the appointment is going to take place.
Tip: In case you are working with Microsoft Outlook, you can easily include your project calendar into Outlook. Just click on "Link" in the lower right corner of the calendar view to import the project calendar link into your Outlook. Alternatively you can also export your calendar into an ICalendar-File.
For administrators: Please click on calendar to access information about the administration of the calendar module.